Landscaping and garden clean ups can often be the key to your renovated property standing out in the crowd and achieving the top dollar that vendors dream about.
Having spent the past two weeks amongst the lush tropical gardens of Bali, I have been struck by the simple symmetry of the landscaping designs.
Before you present your property for sale, go through this Bali-inspired landscaping checklist to make sure your home is well positioned for maximum effect and maximum profit.
Plant in numbers
In Bali, easy to grow plants such as mother-in-laws tongue are used abundantly to create a lush tropical feel.  These plants are also plentiful in Australia and can be easily separated to create new garden beds.
Mass planted foliage with a pop of floral colour is an inexpensive way of providing your garden with pizzazz.
Similarly, Australian native plants and grasses add appeal when planted in numbers
Work with what you've got
Never forget the appeal of trees when renovating your garden to appeal to potential buyers. By all means, prune them right back and tidy them up but remember that purchasers will always perceive value in established gardens.
In Bali, palms, bamboo and frangipanis abound so the Balinese work with what they've got.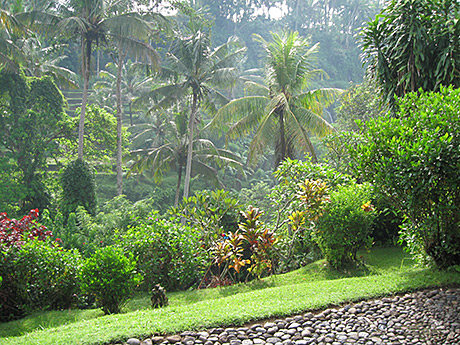 Gum trees can be found in many Australian gardens and will add a touch of splendour to your renovation.  Why not add some garden lighting for extra effect?
 Don't forget your side yard
This can often become the unkempt, neglected area of your garden which you think no-one sees.  Wrong!  Bedroom windows often look out onto the side of the house.  Having an attractive outlook can visually expand the internal space and promote a sense of peace to potential buyers.
In Bali, creating beauty in tight spaces is their specialty.  We can learn alot from mimicking the simplistic style which predominates on the Island of the Gods.
In Australia, this concept can also be adopted for garden areas where nothing else seems to grow
So what are you waiting for?  Happy gardening!